2017 : The Year of Fangirling
December 06, 2017
Can't believe it's December already!
Since 2017 is ending and it seems like I've been neglecting this blog for too long, I decided to write again. One post for at least 2 weeks! Let's hope I can liven up this blog again :)
To end 2017, I will write several things that happened to me in 2017. To sum it up, the year has been... unpredictable. There's a lot of changes happened in myself that I still need to adjust myself to this so-called new life :). Soo... let's begin with the first one.
Contrary to popular belief, if I think again, It's true that I'm a K-enthusiast, but I've never a huge fan.
My k-journey started around 2009, when my friend introduced me to Super Junior. She was a huge fan and even started earlier than I am. So at that moment, I have almost all Super Junior songs in my playlist, just because she is my only source. The songs are good though, but it actually leads to what I enjoy the most : Korean Variety Shows.
I didn't watch everything, only Running Man, which is very huge at that time, Appa Eodiga and We Got Married (because I was also watching dramas, one of them is She's Beautiful in which Yonghwa being the second lead. Apparently, she was also in WGM, so I watched that later).
One thing about K-varieties is that it is often leads to another so you don't really stop watching (ha!). For instance, I wasn't planning on continue watching WGM, but then I watched School 2013, so when School 2015 is out I also watched them. Then, one of the cast got casted in WGM, so I follow the episodes.
Then I was following a couple, and then Jung Joon Young came up as the cast. After a while, he appeared again in the new season of 2 Days 1 Night, so I watched 2D1N and ended up liking the whole show.
Or when there's just an urge to watch something, Roommate came up. It's pretty much the start of me liking EXO for a while (from Overdose to Call Me Baby (I have kinda lessen my attachment on Love Me Right)). And when the 2nd season is out, I came to like Jackson, so I search on Got7.
me being a fangirl in 2016 : taking a picture of Chanyeol's subway ad on my trip
And so everything leads to another that I can pretty much say that I know a tiny bits about several things, but never the whole thing. And it's actually a pretty handy knowledge that can be use as an ice breaker. I have several instances in which I was involved in conversation because apparently I and the other person have watched the same thing. That and Japanese Dramas.
I remember in the beginning of January, I was chatting with one of my friend and we were talking about k-pop.
She said that she was really into Day6 lately. She told me that this group is currently on a project called EveryDay6 in which they release 2 songs every month. And they're a band. Oh wow, I told her, because we both like CN Blue when they first came out and I kinda curious on how this band would sounds like.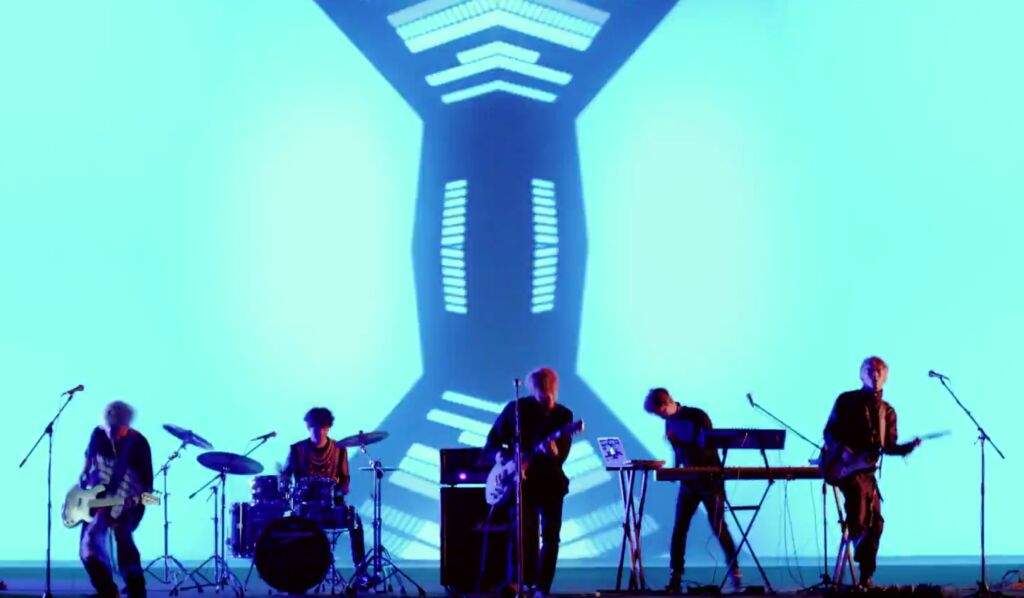 pic from here : x
Well they got me at the first line of
ah wae
:)
Upon liking Day6, I tried a lot of things, and that's actually a lot for me and kinda tiring. Since I knew them on their second year, I have a year and a half to backtrack; radio appearances, fancams (most important!!) V broadcasts, and once I started, I couldn't just stop. In early 2017, when I have a lot more free times than I am now, I was on my phone the whole time so I can catch up on them on time. Streaming radios, twitter updates and streaming V broadcasts almost every single week (since they're on promotion the whole year, so there are 1 scheduled broadcast every week). No sub? No worries, I found out that people do some live translation on twitter.
It was exciting, really. I remember getting excited for a teaser week that leads to a release. In early 2017, I was waiting for 12 KST so that I can catch the teaser and tweet about it and reading exciting captions about that (usually) 1 single (or 2 at most) photo. Trust me you can actually spazzing for 1 photo in 1 hour minimum. You still can go on, though.
Getting your name or comments read by the artist is also heart-warming ♡. I have said already that I tried a lot of things, fangirling related, this year. So once, on their broadcast, I spam a very silly comment about other member and apparently my bias read it. I believe it was my comment since I wrote that like more than 20 times and no one was commenting on the same thing before my bias read mine. But with the comment went so fast, I can't really check or prove it though, so as long as I think it is XD.
There's also a radio show in which my bias is hosting every week (in english, so I can listen to it real time (though if it was viewable, the urge to watch it is so big (and whyyy south korea? Why there's a thing called viewable radio?))). Every week, they will let the listener guess the one who topped their chart and the listeners are supposed to write the answer on the radio message board. To tell the truth, sometimes I enter my first name, and my second name, just to see whether my bias will say my name or not. And he did! (Eventhough there are also time in which I forget which name I enter earlier). And there's this one time, I even win the selfie and he said my name is a sick name
.
Around May, I think the excitement has faded a little. But when they confirmed a fanmeeting in my country in August, I immediately find a friend to go to the concert and bought the ticket. Turns out, it was super lit. I write this part the day after the concert and watching my friend's fancams (me not functioning properly just get crazy with the crowds) and remembering that finally I've been part of the free hage crowd (fancam not mine but still, this is what freehage crowd is). SO LIT
.
After the fanmeeting in August, I can pretty much say that I'm... done (?) with my fangirling life. I still follow them on social media, getting news from the twitter, listening to their releases, but then a major thing happened around September and so I decided to actually stop. Until... this week. LOL. No, but seriously, I can't say that I'm getting back to that fangirling phase, but it's still nice to listen to them every once in a while :). And yes, I just heard their new release. Check it out here.
In conclusion, being a fangirl is actually a lot of works. To be honest, even if I do wonder sometimes about just how much time I spend catching up with their schedule, releases, and sometimes being salty over a lot of things (side effect on being an international fangirl), I don't really regretting that phase of my life but I'm not getting into that anymore. Being a fangirl has been a fun ride :)
OKAY I'M GONNA END THIS HERE BECAUSE I'M SO TRIGGERED TO MAKE ANOTHER POST INTRODUCING EACH MEMBER *SIGH*
(I actually write this back in August and completing it on December. Well, you can tell which part I did write back in August, right?).